CRUEL BEAUTY was to put it simply: beautiful. The language, the characters, the world...I loved EVERYTHING.
(Okay, I had a few problems with the romance...and the blurb, but apart from that...)
An absolutely STUNNING first novel by an equally stunning debut author.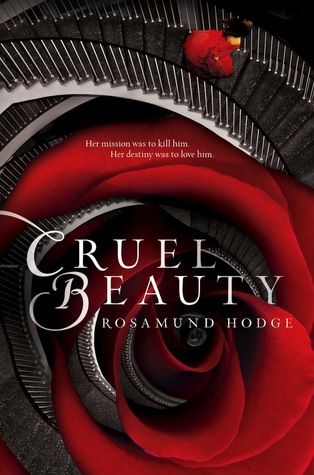 Publisher: Balzer + Bray | Release Date: 28th January 2014 | Genre: Historical Fantasy | Series: Cruel Beauty Universe | Read it in: 2 1/2 hours | Word Rating: Enthralling | Source: The library | Pages: 342
Graceling meets Beauty and the Beast in this sweeping fantasy about one girl's journey to fulfill her destiny and the monster who gets in her way-by stealing her heart.

Based on the classic fairy tale Beauty and the Beast, Cruel Beauty is a dazzling love story about our deepest desires and their power to change our destiny.

Since birth, Nyx has been betrothed to the evil ruler of her kingdom-all because of a foolish bargain struck by her father. And since birth, she has been in training to kill him.

With no choice but to fulfill her duty, Nyx resents her family for never trying to save her and hates herself for wanting to escape her fate. Still, on her seventeenth birthday, Nyx abandons everything she's ever known to marry the all-powerful, immortal Ignifex. Her plan? Seduce him, destroy his enchanted castle, and break the nine-hundred-year-old curse he put on her people.

But Ignifex is not at all what Nyx expected. The strangely charming lord beguiles her, and his castle-a shifting maze of magical rooms-enthralls her.

As Nyx searches for a way to free her homeland by uncovering Ignifex's secrets, she finds herself unwillingly drawn to him. Even if she could bring herself to love her sworn enemy, how can she refuse her duty to kill him? With time running out, Nyx must decide what is more important: the future of her kingdom, or the man she was never supposed to love. *Blurb from Goodreads*
I've been finding lately, that books I think I'm going to dislike I end up really enjoying (think: FIRE & FLOOD). This was the case for CRUEL BEAUTY. What made me reluctant to read this book was the blurb. The first thing that turned me off in the blurb, was:
"Graceling meets Beauty and the Beast."
NO, NO, NO! This is WRONG! AND IT'S NOT EVEN CORRECT. I've read GRACELING. I
loved
GRACELING. CRUEL BEAUTY and GRACELING have
nothing
in common. Nothing. NOTHING. Why do people do this??? It makes me NOT want to read it, not WANT to read it when I see stuff like this on book blurbs! STOP DOING IT!
The rest of the blurb (to me) is makes out the story to be some soppy romance retelling of BEAUTY AND THE BEAST. Wrong! Yes, CRUEL BEAUTY has romance but it's not all about that! It has mythology and demons and old enchantments and, and, and, its just so much MORE then a love story! The blurb doesn't mention any of this awesomeness.
But you know what makes me really sad? It's the fact that there might be other people out there, who thought the blurb made the book sound terrible to, but unlike me, still decided to try it out and never found out how beautiful this book is apart from it's ghastly blurb.
I think my favourite thing about CRUEL BEAUTY was the main character, Nyx. Nyx was angry, strong, bitter, defiant, resentful, stubborn,
but not in a bad way.
Nyx had so much pressure on her, she was like a sheet of glass; she acted fine and strong and invincible and pretended for everyone else's sake that she could save the world but if you looked closer, you would see fine cracks spreading across her surface, her insecurity, bitterness and how she was terrified of the thought of dying at the hands of a demon at the age of 17.
(CLUE: She doesn't.)
Nyx was just so full of emotion that she'd never been allowed to show. Yes, she did some bad thing, but she also did some good things. Nyx did what she thought would be best for
everyone
. She followed not just her heart or her brain, she followed her
soul
. So basically, she was frabjous.
I would've liked to learn more about her family. We learnt a lot about Ignifex, Shade and Nyx through out the book, but practically zilch about her family apart from the fact her twin sister had a personality change at the end of the book that didn't really make sense.
The world building was a.m.a.z.i.n.g. As well as being a fairytale retelling, IT HAD MYTHOLOGY IN IT. GREEK MYTHOLOGY.
(You should know that I LOVE mythology, especially Greek.)

Somehow, without ruining the book, Hodge managed to include the two, and the result was PERFECTION. *fangirls*
There was one thing that really confused me though: Nyx had a twin sister called Astraia. (Do NOT ask me to pronounce it. Just DON'T.) The land that the whole story is set in is called Arcadia. Is it just me, or do those names seem quite alike? Anyway, it confused me.
There was a love triangle...but there kind of wasn't. Ignifex was the demon lord. Shade was his prisoner and shadow. Both had evil in their hearts, but both also had kind streaks as well. Basically, very confusing, but it all worked out in the end. Thank goodness! My poor little brain was finding it hard to keep up.
Overall, a fantastic first novel involving a fairy tale retelling with mythology, written in a simple but beautiful form and full of an interesting cast of characters. I found it a little heavy on the romantic side at times (I liked it better when Nyx was throwing things at Ignifex) but I still enjoyed it. I would recommend this book to anyone who enjoys fantasy and fairy tales.
COOL FACT:
I wondered what Nyx's name meant, so I googled it.
(I love Google.)
It turns out in mythology Nyx is the daughter of Chaos and and a primordial Goddess of the Night. I though this was very apt considering she falls in love with a dark lord.
~Rating~
Has anyone else read CRUEL BEAUTY?