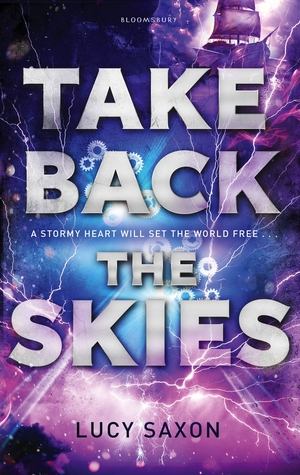 Publisher: Bloomsbury
Release Date: June 5th
Pages: 378
Source: For review
Purchase: The Book Depository
Read it in: 3 1/2 hours
Word Rating: *stabs book* DIE, DIE, DIE!
Catherine Hunter is the daughter of a senior government official on the island of Anglya. She's one of the privileged – she has luxurious clothes, plenty to eat, and is protected from the Collections which have ravaged families throughout the land. But Catherine longs to escape the confines of her life, before her dad can marry her off to a government brat and trap her forever.
So Catherine becomes Cat, pretends to be a kid escaping the Collections, and stows away on the skyship Stormdancer. As they leave Anglya behind and brave the storms that fill the skies around the islands of Tellus, Cat's world becomes more turbulent than she could ever have imagined, and dangerous secrets unravel her old life once and for all...
.
This book... *stabs eyeball* *changes mind and stabs book instead* *headdesks repeatedly*...I have no idea where to start with my wonderland rabbit hole long list of complaints and frustrations!
I think what most got a big massive hornet in my top hat (c'mon...admit that it's way more creative then, 'bee in my bonnet') was that this book HAD SUCH A PREMISE. It could have gone far in the world, if it worked. It could have FLOWN, DUCKED AND DIVED around the bookish world and people far and wide would have loved it...BASICALLY IT COULD HAVE BEEN GREAT, BUT BEFORE IT DID, IT FLEW UP WAAAAY TO HIGH, WHERE THERE WAS LITTLE OXYGEN GOT DISORIENTED AND SMASHED IT'S STUPID BRAINS OUT ON A PASSING AEROPLANE. IT DIED A LOOOOONG MISERABLE PAINFUL DEATH THAT WE ALL HAD TO WITNESS AND GO THROUGH BECAUSE WE READ IT.
BUT. (YES. THERE IS MOOORE.) The
bird
book didn't just die from Adrenaline Junkie Turned Aeroplane Decoration (aka BIRD BRAINS EVERYWHERRRRE!), it also died from one of the most
useless
MC's EVER, Cat. I spent most of the
bird
book convinced that Cat was a three year old disguised as a fifteen year old. Don't laugh! It's true! It frustrated AND embarrassed me, because I'm the same age as Cat, and I could not FOR THE LIFE OF ME see myself doing anything Cat did, or making the same decisions as Cat did. NUH, UH. Her behavior was so juvenile, I couldn't relate to her at all.
The plot was non existent unless you count making STUPID plans that you know aren't going to work, but of course the characters are to dumb and don't listen to your frustrated howls through the kindle. (THIS HAPPENED MORE THEN ONCE.)
There was so much sexism in this book that it made me choke. The love interest, Fox, is SO full of it and is convinced that a women's place is in the kitchen and that she shouldn't be allowed to have adventures because you know, IT'S DANGEROUS. I spent about 80% of the book fantasizing about Fox dying in many painful ways.
Funnily enough, Fox actually DID die. It was the highlight of the book for me even if it was done really badly. Whatever. HE'S DEAD. I'm happy.
The ending was just idiotic.

Nothing made sense and then the wedding???!!! WTH was with that???!!!
Overall this book was a disaster. It's safe to say I WILL NOT be picking up the sequel.
***Thanks and hugs for Bloomsbury and Netgalley for letting me review this book!***
Who else has read Take Back the Skies? If you did, did you: enjoy, hate, despise, or want to run over it's guts?! (Guess which one I chose!) Tell me what you think!!