I like gifs. Y'know just a little bit.
Okay, that might be the understatement of the millennium: I LOVE GIFS.
Big thanks and hugs to
Aneta Augustine
(seriously people you should check out her blog, HER SENSE OF HUMOUR IS FABULOUS) who tagged me for The Book Gif Tag!! YAY!! *bounces up and down*
I've been wanting to do this ever since it started circling the book blogsphere so I was beyond happy and surprised that I got tagged, especially as I've been as around on the blogsphere as much as a rainbow coloured squirrel
(aka not here).
The rules for The Gif Tag are pretty basic: The person who tags you gives you 10 books for you to post a gif reaction to. After you do that, you tag people that you want to see do it and give them 10 books to post their reaction too! Got it? Ok, lets go!
1.) Peter Pan
The truth is, I have a memory of a sausage. It's true! I find it difficult enough remembering what day it is! I remember reading Peter Pan a looong time ago, but I can't remember all of what I thought about it. I remember I disliked Wendy and couldn't understand why someone would name a house for her (I mean c'mon...Ella House sounds so much better). Peter was a dead kid that found joy in kidnapping kids and calling it an adventure. Tinkerbell was like a parrot on coffee (you have to agree with me, there) and I really, really liked Caption Hook. Or, more specifically his hook. (I was going through a pirate phase that's all I can say.) But apart from those tiny things I think I enjoyed the story. Think. I'm going to have to reread it. (It's been yeeeeears.)
2.) The Help
I DNF'd this at about a quarter way in. I WANTED to enjoy it, but like the incredibly adorable duckling above I kept dropping off and yawning. maybe I'll pick it back up in the future.
3.) City Of Bones
Ooooh, you SHOULD NOT get me started on this book *hefts axe*
Zoe
and I share a deep loathing for this book so I'm glad at least ONE person stands beside me in this world FULL of Cassandra Clare fans everywhere you look. *shivers and hides behind Zoe* I would be quite happy to watch this book and everything in it (including the furniture) get beheaded. *swaps axe to other hand* HAPPILY.
4.) Throne Of Glass
AAAAAAAAAAAAAAAHHHHHHHHHH!!!!!!!!!!!!!!!!!!!!!!!!!!!!!!!!!!!!!!! *hyperventilates* *giggles madly* To be completely honest, when I reread Throne of Glass recently, I didn't find it as great as the first time I read it BUT BECAUSE I AM A LOYAL FANGIRL AND BECAUSE CROWN OF MIDNIGHT BROKE MY FEELS AND HEIR OF FIRE BURNT THEM TO ASH, I STILL LOVE IT. Now go away and read them. Now. off you go, SHOO.
5.) Divergent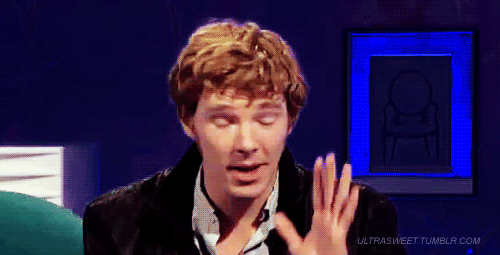 Divergent was like on of those mixed bag of lollies you can get. Half of the lollies are your favourite and the other half of the bag are foul and sickeningly gross. Meet my experience with Divergent: I devoured the first half and ADORED it, got to the Four and Tris starting to be lovey dovey, and BAM! Bring out the crap. I absolutely HATED the second half of Divergent which made me sad. Talk about twist my feels into knots!
6.) Twilight
I googled many search terms before I came across this fantastic Sherlock gif. THANK YOU SHERLOCK!!!!! I'd give you a hug, but you'd probably owe you a mystery. I won't fill up this blogpost with How Much Ella Hates Twilight because I think I've probably already scared you away with my City of Bones rant and also the above Sherlock gif. I PROMISE, I don't go round savagely beating books I
want
to see tortured till their dying breath
don't like to death.
7.) The Mediator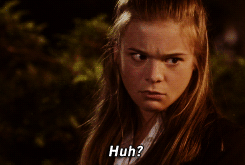 Never heard of it before. Upon looking it up, this book/series seems to be by Meg Cabot who I've never read anything by. Isn't she the author of the Princess Diaries or something??
8.) Legend
Mmm, it was ALRIGHT. I didn't really understand what was SOOOOOO amazing 'bout it though. So I'm leaving it up to Harry to do that adorable little shrug of his to explain my reaction to it. ;)
9.) Thirteen Reasons Why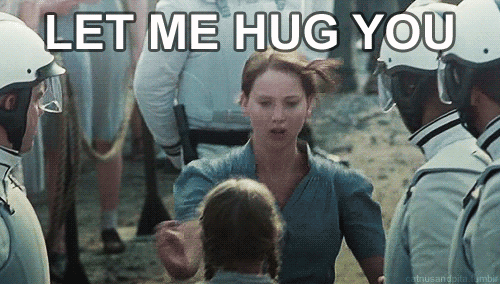 THIS BOOK WAS SO SAD BUT BEAUTIFUL. One of the only times I've got teary over a book. Just...LOVED IT TO FRABJOUS AND BACK. Now go away and let me remember every sad and marvellous word of it. *weeps in corner*
10.) Pride and Prejudice
*hides behind newspaper* I ACTUALLY HAVEN'T READ IT. I KNOW. I am so very disappointed in myself. I mean, this is like the classic of ALL classics. Something is seriously wrong with me. *shakes head* I'm just no the biggest classic reader out there. Have read Mansfield Park, though! *grins proudly*
(because Romi is one of my favourite person's EVER and because her sense of humour is fantastic and also because I've said so. THAT IS REASON ENOUGH ROMI.)
(because Em is the Queen of gifs and I stalk her rather creepily)
(because Skylar makes me happy when she posts)
(BECAUSE SHE'S AWESOME. And accepts my craziness.)
(because Briana's answers will make me grin form ear to ear)
(because Hawwa is also Queen of gifs and she makes me laugh)
(because Zoe is like the SWEETEST MOST NICEST PERSON OUT THERE. Also because I want her to do it.)
(because she's FRABJOUS and also because I just want to stalk her more)
And anyone else that wants to obey my demands

(I'm looking at YOU)

.
My 10 books that demand your gif reaction:
Alice In Wonderland
(I mean...you HAD to see that coming, didn't you??)
Twilight

(BECAUSE MWAHAHAHAHAHA, I WANT TO SEE EVERYONE'S REACTIONS. *chuckles evily*)
Every Breath
(BECAUSE IT HAS SHERLOCK TWIST IN IT! AND IT IS EVER SO MARVELLOUSAMOS!!)
Grave Mercy
(BECAUSE IT HAS KILLER ASSASSINS AND POISONS AND A FANTABULOUS PLOT AND ROMANCE!)
Clockwork Angel
(I am ONLY putting this on the list, so I can stalk the people that
might've
actually disliked it. That reason only.)
The Selection
(Anyone else immediately thinking Effie Trinket from The Hunger Games?? BECAUSE I AM.)
Graceling
(BECAUSE KATSA. AND PO. AND EVERYTHING.)
Skulduggery Pleasant
(BECAUSE IT HAS A SARCASTIC TALKING SKELETON!)
The Distance Between Us
(BECAUSE IT IS ADORABLE!)
Poison Study
(BECAUSE IT IS SO FRABJOUS!)
Happy Giffing everyone! :D Leave your links in the comments!